Finally! A project is completed. And this was a bitch of a project.
Current fashion is all about bold, bright patterns. I am not a bold, bright pattern kind of person. But then I stumbled upon this sateen fabric in the clearance section of JoAnn's - which was on sale at 50% off! It was a big pattern, but I liked the shape and colors within it. At $3.50/yard this was a deal too good to miss, so I snapped some up. I found some coordinating purple sateen (also half off!) and a dress was born.
I wanted to make a dress with some sort of contrast neckline so I could use the purple sateen to break up the pattern and frame my face. I found what I was looking for in
New Look
pattern 6864.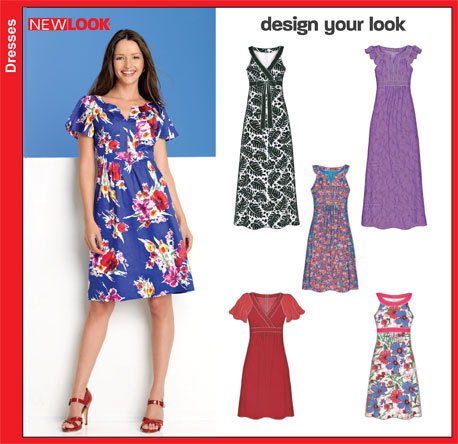 I planned to do the criss-cross neckline with the flutter sleeves. Planning to do things right (see, this blog is holding me accountable!), I made a muslin first. The muslin dress came together super fast and easy. I'm glad I made it, too, since I discovered an error in the pattern; the front pattern image tells me to use the wrong bodice type for the dress I wanted to make. So yay, saving me time and money!
The muslin also told me I should make a smaller size than I originally planned. I made a size 12 top and a size 14 bottom.
Then things went all to hell. This quickly became a cursed project. I don't have any pictures of the sewing process because I was too busy cursing to take pictures. I sewed every seam at least twice. There were a couple of seams I sewed four times. My mom always told me that if you make two mistakes in a row you should put the project down and walk away from it for the rest of the day. Wise words. Too bad I didn't heed them.
I stumbled on, sewing, cursing, ripping, sewing again. Finally, FINALLY the dress is done. Well, I only did a small hem and could probably take it up a bit more, but that is a pretty easy fix. Here it is, the cursed dress in all its glory:
Yep, I could take it up another inch or two. Show some knee (how scandalous!). The back looks a little rumpled, but I assure you that is just the bounty that is my butt making the fabric wrinkle up. (sigh)
Would I make this pattern again? Yes, though I don't think I would do the flutter sleeves unless I had a really lightweight fabric like chiffon or something. I feel like the sleeves make my shoulders look really broad which makes my head look really small. Maybe they will relax with some washing. Thankfully, the pattern had a lot of options.
Glad the cursed project is over. Next up: zipper on the red coat!